THE PARADE ON SATURDAY: FROM NOORDWIJK TO HAARLEM
This 42 km long parade of floats decorated with beautiful hyacinths and other colourful spring bulb flowers is a sight to behold. The Bloemencorso Bollenstreek festival covers no less than 5 days. All villages and towns in the bulb growing district in the west of the Netherlands together with the floral city of Haarlem take part in many activities surrounding the parade.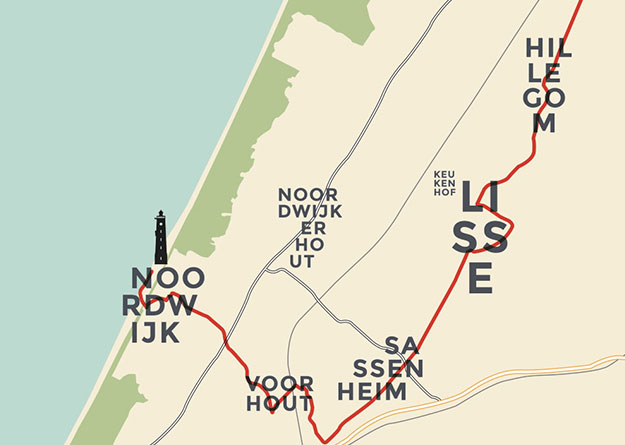 THE ROUTE
9.15 hrs Noordwijk (Leaves Koningin Wilhelminaboulevard)
11.30 hrs Voorhout (roundabout Jacoba van Beierenlaan)
12.17 hrs Grandstand Sassenheim
14.00 hrs Sassenheim (departs from the Hoofdstraat after the lunch break)
14.30 hrs Grandstand Tulperij
15.15 hrs Lisse town centre
15.30 hrs Lisse Keukenhof
17.00 hrs Hillegom town centre
18.00 hrs Bennebroek (19.00 - departs from the Linneaueshof)
20.30 hrs Heemstede
21.30 hrs Haarlem
Detailed route
GRANDSTANDS WITH COVERED SEATING
Experience the parade from one of our seated grandstands where you can sit comfortably with an excellent view and watch the floats passing by. Grandstands can be found in Sassenheim, Lisse and Hillegom. Add a lunch, organised walk through the bulb fields or a workshop to complete the experience.
TICKETS

PARKING
Various options are available in the vicinity of the parade for (free) parking. Follow your gps to the location indicated and from there a traffic warden will direct you to the nearest available spot. There are a limited number of parking spaces available for handicapped visitors on the actual site.
PUBLIC TRANSPORT
Choose your spot to view the parade. The surrounding roads will be closed for an hour prior to and following the parade for all traffic. We recommend that you arrive at the town centres on public transport (www.9292.nl), by bicycle or on foot. Enjoy the various restaurants serving refreshments along the way.
VISIT BEHIND THE SCENES
For three days from Wednesday 19th to Friday morning 21st April you can watch the art of decorating the floats in The Klinkenberg tennis hall in Sassenheim. Hundreds of volunteers are busily attaching the millions of flowers. With luck you may get a chance to give them a hand.
ILLUMINATED PARADE
On Friday evening 21st April you can view the Corso in a different light. At 9 p.m. we illuminate the floats with thousands of lamps as they drive through the charming village of Noordwijkerhout. An experience not to be missed.
VIEW THE ILLUMINATED PARADE
EXHIBITION OF THE FLOATS
On Sunday 23rd April, the floats are on show one last time in the historical floral city of Haarlem. Use the opportunity to take perfect pictures surrounded by music and entertainment while enjoying a drink at one of the cafes. At 5 p.m. we wave the floats a final farewell.
VISIT THE EXHIBITION