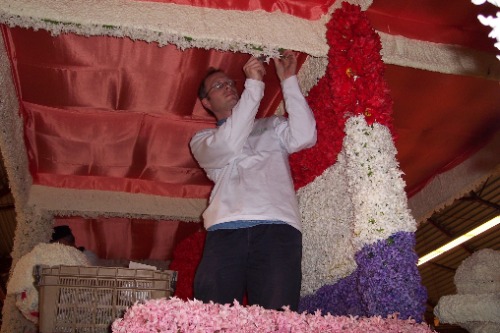 Proud of the area I live in and proud of the parade
I have been involved as a volunteer with the parade since 2005. At that time I was on the committee of the Allotment Society Elsgeest in Voorhout and we were asked to help decorate the floats. This is done by pinning each of the flowers onto the moulds. The build-up days had moved from Lisse to nearby Sassenheim and they were looking for new groups to help. We accepted the chance with open arms.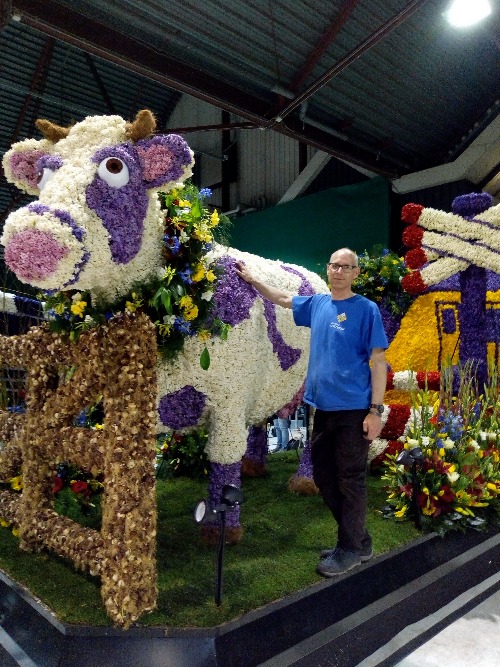 Feels like a family
Eind jaren 90 ben ik vanwege een baan bij de KAVB, de brancheorganisatie voor de bloembollensector, samen met mijn vrouw vanuit Breda naar Voorhout verhuisd. Vanuit Brabant kende we al het saamhorigheidsgevoel van samen bijdragen aan een evenement. Mijn schoonouders waren lid van een carnavalsvereniging en bij hen thuis werd er ieder jaar gebouwd voor de carnavalsoptocht. Ik kende de sfeer van het samen bouwen en het plezier dat je daar aan kunt beleven en hoopte datzelfde gevoel bij het Bloemencorso te kunnen vinden. En dat is zeker gelukt. Omdat alle wagens in één grote hal worden opgebouwd geeft dat een familiegevoel.
I am infected with the Bloemencorso Virus
The Parade is also a billboard for the bulb sector and helps promote this area of The Netherlands. The Bloemencorso virus took hold of me and has not let go. I am no longer a member of the main committee, but I still coordinate the Allotment Society's team of decorators. 15 parades on, my wife and children are also involved. What a kick to see all those spectators enjoying the parade each year. am proud our of area and proud of the Bloemencorso.
Hopefully next year
Sadly the Parade has been cancelled for 2021. Let us hope that it can ride again in 2022. We will be ready!