Bloemencorso Bollentreek - Dutch Intangible Cultural Heritage.
We are delighted to announce that our Bloemencorso Bollenstreek has been added to the Dutch Inventory of Intangible Cultural Heritage. How incredibly special!''This is certainly a gigantic feather in the cap for each of our 1500 volunteers'', according to chairman Willem Heemskerk, himself also one of this large, dedicated group of individuals. ''Thanks to their dedication over the last 75 years they have become a cultural heritage community with the task pf preserving the tradition for the future. That we have received this recognition in our 75th Jubilee year makes us even prouder. We are delighted that our parade decorated with hyacinths, tulips and daffodils supports our national identity and is an advertisement for the bulb industry in general"
Extraordinary Group of People
The official addition to the register will take place in December. Willem Heemskerk and treasurer Marcel van Schaik will sign on behalf of the 1500 volunteers together with Marco van Baalen, the director of the Centre for Immaterial Cultural Heritage. The parade could not think of a better way to start the 75th anniversary year.The evaluation committee has concluded that Bloemencorso Bollenstreek is run by an extraordinary group of people and has clearly shown that it wishes to retain its key values for the future. Since 1947 the Bloemencorso Bollenstreek has evolved into a parade over a route of more than 40 km. It is made possible by 1500 volunteers, many of whom work throughout the year. Through education and participation the key values are moreover passed on to the youth which leads to the maintenance of this Heritage. The Committee recommended promoting in more depth the cultural heritage of the Bulb District. The use of bulbs puts this cultural heritage in the top 5 of Dutch identity.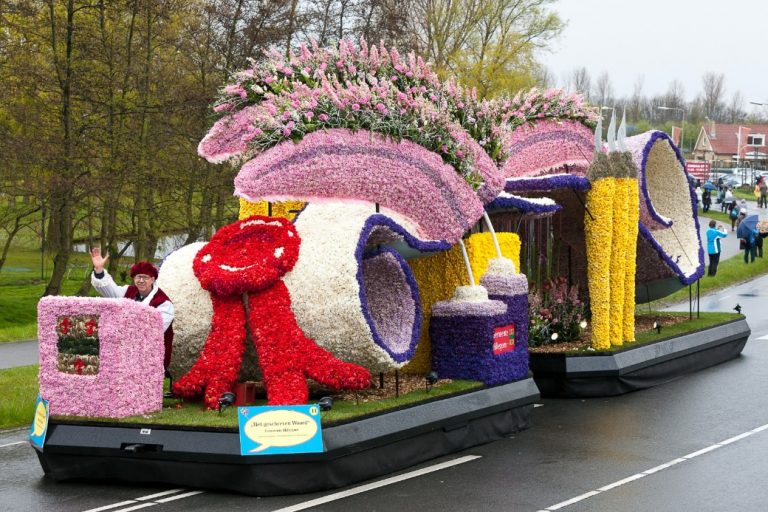 Volunteers are an essential part of the success
Willem Heemskerk, "I would be delighted to raise a glass to this recognition together with our volunteers, but the current Covid regulations make this impossible. Via this message I would like to congratulate and thank all those volunteers in the seven towns and outside who make up our Bloemencorso Community. We are extremely proud of our volunteers, and they are hugely important for future for the parade. Their dedication cannot be expressed in words. Long live Bloemencorso Bollenstreek"
The addition of Bloemencorso Bollenstreek helps protect the heritage. This is the start of the protection in accordance with the UNESCO treaty relating to the protection of immaterial cultural heritage. The Centre of Knowledge helps by evaluating the progress of this heritage maintenance every three year.
Intangible cultural heritage is the bridge between present, past and future. It is culture of today, creates a sense of connectivity with earlier generations and is at the same time future-orientated, because people wish to pass it on to next generations. There is no subsidy attached to the recognition.