Hans and Louise take part in a team of decorators who pin the flowers onto the floats.
We have been involved in the parade since the swimming club Watervrienden from Lisse took on the decoration of one of the floats.
In Russia - bulbs for sale in the market from De Ree!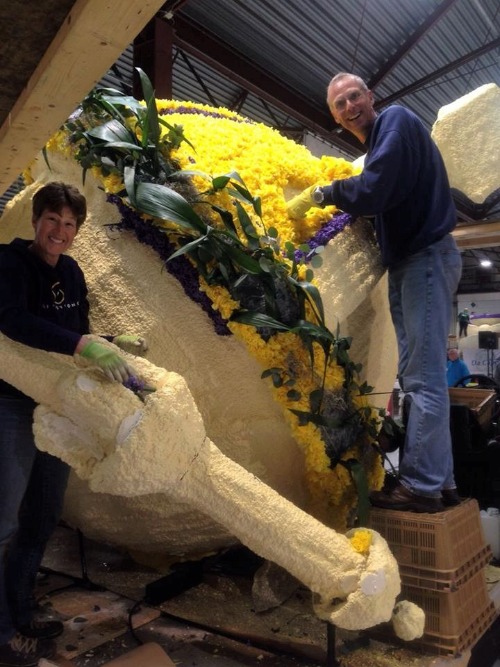 Hans and Louise's Story
Started working on the floats as teenagers

After we were married, we missed 16 years when Hans was posted abroad.
No hyacinths to be found in Thailand or Indonesia, but in market in Russia to our surprise we found packets of bulbs for sale from De Ree in Lisserbroek! We also spotted posters promoting Keukenhof or Bloemencorso Bollenstreek in the strangest of places (Canada, Japan etc.). Of course that made us think of home. We normally visited The Netherlands in spring time to see family, but we always seemed to miss the parade. Lucky in recent years we could follow it on T.V. via catch-up.
We are looking forward to next year
Following our return to Lisse in 2013 we immediately signed up again with the Watervrienden and also became members of the Bloemencorso committee. Hans in now involved in picking the flowers which is more part of the general organisation, but of course we will be there again pinning the flowers onto the floats. We can't wait for 2022.
Portraits from the parade
The parade was cancelled in 2021
We are therefore collecting stories
Do you have one to share with us?
Portraits from the parade
THE MOST SPECTACULAR SPRING FESTIVAL IN THE NETHERLANDS
The Bloemencorso of the Bollenstreek is the largest spring festival in The Netherlands. This colourful, fragrant spectacle is celebrated annually during one week of the year by more than one million visitors. The main highlight of the event is the parade on Saturday when the colourful floats and the luxury vehicles decorated in masses of flowers travel the 42 km route. The addition of cheerful music from the marching bands and amusement on and around the floats all contribute to the excitement of the event as experienced by the stream of visitors from home and abroad.
20th to 24th April 2022
FOLLOW THE PARADE LIVE
2021 WITH A DIFFERENCE
WE ARE BRINGING THE BLOEMENCORSO TO THE WORLD
The Bollenstreek Bloemencorso can be followed via our Livestream. Watch and enjoy the colourful splendour from the comfort of your easy chair as the parade traverses the Bollenstreek.
Follow us on social media and become a part of this unique experience.
Together we keep the event and the traditions alive.
Together we experience the message of hope and happiness.
Together we celebrate the largest Spring Festival.
ROUTE OF THE MAIN PARADE
On 23rd April 2022 our parade travels from the floral beach resort of Noordwijk to the floral city of Haarlem 
GO TO THE ROUTE
ALL PARTICIPANTS
Discover here the participants in the 2022 edition of the Bloemencorso Bollenstreek
TO THE PARTICIPANTS
CONTACT
Do you have questions, comments or compliments? We always appreciate hearing from you. You can contact us via the information below or view our contact page. Contact page
Bloemencorso 2022 | | 20th to 24th April 2022