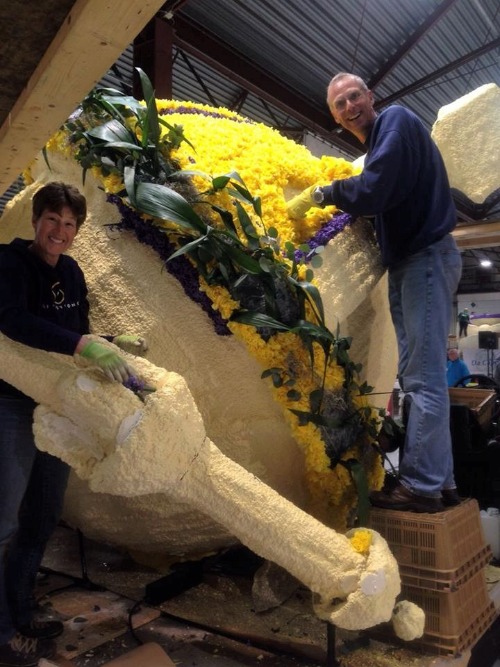 In Russia - bulbs for sale in the market from De Ree!
We have been involved in the parade since the swimming club Watervrienden from Lisse took on the decoration of one of the floats.
Started working on the floats as teenagers

After we were married, we missed 16 years when Hans was posted abroad.
No hyacinths to be found in Thailand or Indonesia, but in market in Russia to our surprise we found packets of bulbs for sale from De Ree in Lisserbroek! We also spotted posters promoting Keukenhof or Bloemencorso Bollenstreek in the strangest of places (Canada, Japan etc.). Of course that made us think of home. We normally visited The Netherlands in spring time to see family, but we always seemed to miss the parade. Lucky in recent years we could follow it on T.V. via catch-up.
We are looking forward to next year
Following our return to Lisse in 2013 we immediately signed up again with the Watervrienden and also became members of the Bloemencorso committee. Hans in now involved in picking the flowers which is more part of the general organisation, but of course we will be there again pinning the flowers onto the floats. We can't wait for 2022.